A Time to Heal Helped Me Find My Way Again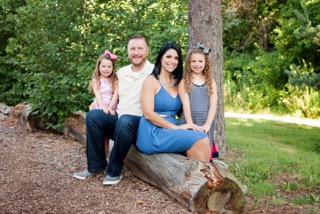 With the holidays fast approaching, dental hygienist Tanya Tomjack was looking forward to the next phase of her young life. Having moved into a trendy loft in Omaha's Old Market area, the 25-year-old shared a happy relationship with Brandon, her attorney boyfriend of three years, and the two were discussing an engagement.
It was just before Thanksgiving 2008 when bouts of fatigue she'd ignored for several months became more intense. And then a small lump on the side of her neck grew larger.
Tanya made an appointment at Nebraska Medicine, where a resident ordered blood work and an ultrasound, quickly followed by PET-CT scans. Ten years later, she still vividly remembers the radiologist's blunt assessment: "Looks like you have cancer. You better get a good oncologist."
With a diagnosis of Stage 3 Hodgkins lymphoma, Tanya received an implantable port on Christmas Eve in preparation for a regimen of chemotherapy. Her future suddenly looked very different.
"When you're 25, you think you're invincible," she said, "then it all happened so fast. I'm scared of dying and thinking, 'I'm not gonna get married, I'm not gonna have kids, I'm not gonna get old and gray.'"  Tanya soldiered on during chemo, continuing to work and taking only the day off following a treatment. Anxiety about her cancer was partially overrun by the rapid pace of her personal life.
Determined not to let the illness put their lives on hold, Tanya and Brandon became engaged, purchased a home, planned a wedding and married in January 2010.
And then the whirlwind stopped. With her cancer treatments concluded, Tanya's doctor told her to go live her life, and he'd see her for a check-up in three months.
"I'm not sure what I expected, but that was the turning point. I didn't know how to live again. Life after cancer isn't the same as before. I wasn't the same person as before," she said.
Through a neighbor who also was battling cancer, Tanya and Brandon learned about A Time to Heal. It has helped hundreds of cancer patients and their caregivers create their best lives possible through a foundational, science-based Holistic Wellness Program, unique Brain Fog Program, and support groups for recurrent or metastatic patients.
"I really benefitted from the materials and mentally working though the hardships. It helped me realize what I was going through was normal, and that was a relief," she said.
For the introverted Brandon, the opportunity to share and learn from other caregivers in separate sessions was invaluable.
"I didn't see cancer coming, and I didn't know how to deal with it. The focus was on Tanya as it needed to be, but as a caregiver I was feeling a lot of stress and not doing anything about it," he said.  "A Time to Heal gave me the opportunity to be with people who understand, in a comfortable, safe environment where I had the freedom to talk about caregiver-specific issues."
Research results show A Time to Heal initiatives increase hope, resilience, quality of life and happiness, while decreasing depression and anxiety.
Today, the couple are proud parents of two young daughters, Evangeline and Reagan, who are described as "sassy and loving." Thanks to her ongoing involvement with A Time to Heal, Tanya no longer worries about upcoming cancer check-ups.
"A Time to Heal helps you find your way again," she said. "It helps you become the person you were meant to be."