We have two CD's A English music CD and A Spanish spoken CD summarizing A Time to Heal program techniques. Training materials for A Time to Heal programs are only available for purchase by certified facilitators.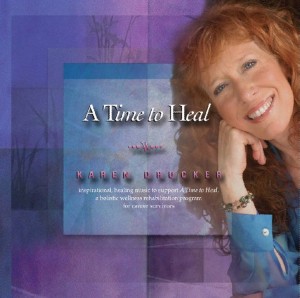 A Time to Heal musical CD by Karen Drucker
Inspirational, healing music and musical affirmations to support healing for cancer survivors.
We are extremely grateful to Karen Drucker for her generosity in donating this inspirational CD to support cancer patients in their healing. All proceeds are being generously donated by the artist to continue the invaluable work of A Time to Heal.
Only $20 including free shipping!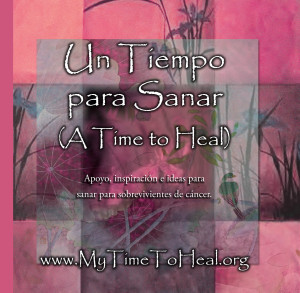 Un Tiempo para Sanar = A Time to Heal Spanish CD
Apoyo, inspiración e ideas para sanar para sobrevivientes de cáncer.
Un Tiempo para Sanar es un programa innovador de rehabilitación para los sobrevivientes de cáncer. Se basa en un modelo de mente-cuerpo-espíritu de la salud y está diseñado para ayudar a los sobrevivientes de cáncer a recuperar su fortaleza física, emocional, intelectual y espiritual después de someterse a los tratamientos para el cáncer. El objetivo de Un Tiempo para Sanar es capacitar a los sobrevivientes de manera que puedan tomar decisiones personales que les permitan no sólo sobrevivir, sino prosperar, después del cáncer. Gracias a las sobrevivientes latinas en Nebraska que nos han ayudado con este proyecto. Agradecemos su generosidad en compartir su tiempo, sus opiniones y su valor al relatar sus historias. Exhortamos a los sobrevivientes de todo el mundo a tomar un momento para sí mismos.
Se merecen Un Tiempo Para Sanar.
CD's a Solo $20 sin gasto de envío.
---